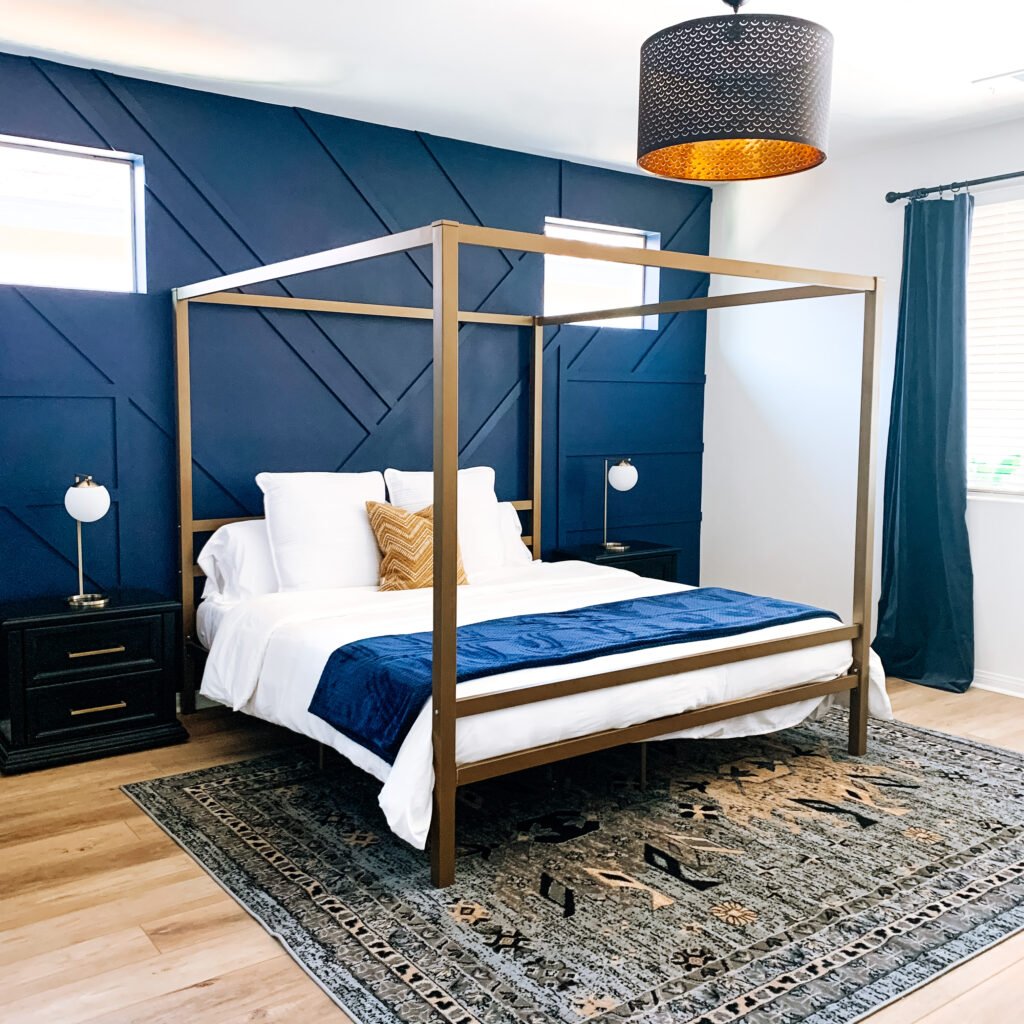 This room definitely has a more masculine feel. Not as wild as the rest of the bedrooms, but still one of my favorites. I would totally do our room at home almost the same way. I love this room so much.
Links are after photos.

Here are all of the links I could round up for everything we purchased:
*click the blue colored text and it will link you directly to the item
Canopy Bed Frame -$196 for king – We have the king size here. Comes in other sizes and colors! Super sturdy and solid for the price. Very impressed.
Print on wall – $6 – These are digital downloads, that I then uploaded to Canva. See my print hack here.
Leather Chair – $299 – *SIMILAR ITEM* The chair linked is exactly like ours but has a little leather on wrap on the arm rest.
8×10 Rug – $169 – I LOVE this rug so much! The rich colors are STUNNING!
Matching Bathroom Runner – $39 – This matches the bedroom rug
Ceiling Light Shade – $39.99 – Such a great price for a bold statement.
Globe Table Lamps – $40 – These were so cute and fun, we thought they were perfect for this room! Plus, as I always say – a great price!
Curtain Rod – $17.09 – This is great and can extend up to 144″.
Blue Velvet Curtains – $59 – I mean, I love anything velvet, so these are an obvious yes for me. They come in so many colors, and are great for blocking out all light, if that's something you're into.
The nightstands and dresser were hand painted by Erica using this paint sprayer – $99 – I highly recommend this paint sprayer! Color BLACK.
Brass Hardware – $31.99 for 10 – I love these. I like that they are big and longer @ 7.5″.
Bath Mats – $9 – In case you're looking for some great bath mats these are super soft and this color hides lint, etc.
Bathroom Tiger Art – $39 – I am so obsessed with these tiger pictures lol. We have 2 other ones in the 3rd bedroom.
PAINT COLOR: Behr Ultra – Compass Blue – Eggshell
DIY Projects From This Room:
*Links for these will be added as the DIY tutorials are being completed*
Painted Wood Pattern Feature Wall
Refurbished Dresser
Refurbished Nightstands
Canva Print Hack